Purchase Deborah Kagan's new book by March 31st
and get FREE GIFTS.
Order your copy of Find Your ME Spot
by March 31st and receive
HUNDREDS of dollars of FREE Bonus Gifts
A life rich with sensuality, confidence, and juicy yumminess is the birthright of every woman…yes, even you! If you're a woman, you already have everything you need to live your most fabulous life. Really. You don't need to change your looks, your finances, or your life situation - you just need to reclaim that which is already yours!
In her inimitable fun and sassy voice, Deborah Kagan's Find Your ME Spot book gives you 52 sexy and delightful ways to literally find your ME spot, and turn your life into the rich, delicious feast it is meant to be. It's a year's worth of empowerment at your fingertips.
Take Deborah home with you
AND
help her end violence towards women and girls...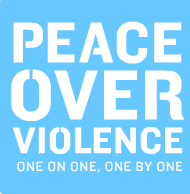 A portion of the proceeds from every book sold on MARCH 21st will be donated to Peace Over Violence, a non-profit, volunteer organization dedicated to a building healthy relationships, families and communities free from sexual, domestic and interpersonal violence.
Take advantage of this amazing offer today! You will receive 100's of dollars of incredible FREE BONUS GIFTS from leading experts, teachers and empowering products when you order a single copy of Find Your ME Spot. Here are some of the phenomenal people offering their support to help you make this life the best, juiciest one ever!
Deborah Kagan

Bonus ticket to Mojo 180

$97 Value

Mojo180 is more than an event, it's a gathering. More than a gathering, it's a day of transformation. More than another feel-good exercise, Mojo180 is a launching pad for REAL, lasting success. Experience a solid day of electrifying, real-world, proven confidence building secrets. Not hype, hope or fluff. But the kind of foundational confidence principles that can skyrocket you to living a turned on life in no time.

Bonnie Stern

10% off One Ounce Jar of Sex Butter

Sex Butter is the perfect way to enhance the most intimate expression of love. Sex butter is an all natural sexual enhancement/lubrication product which is made with organic, healthy ingredients and is especially healing and beneficial for couples and women for a more open experience to intimacy. Sex Butter is paraben-free, hormone free, and promotes faster, longer, more intense, satisfying orgasms. It can be used by both women and men, with a partner or alone. The scent is dark chocolate with a hint of mint while it feels soothing and silky. Sex Butter is clean, fresh and easy to use and a little goes a long way! To find out more about Sex Butter www.sexbutter.net

Lisa Haisha

30-Day Soul Blazing Writing Journal Accompanied by a 15-minute phone/Skype session. $207.99 Value

Each calendar day, for thirty days, starting with the day you begin, offers a quotation that is based on the theme of this book, which is intended to inspire you, encourage you, and stimulate your thoughts. Underneath each quotation sits a suggestion or a question. Respond to it, to provoke your words for the day. And if something else moves you, feel free to write about it instead. There are no hard and fast rules. No matter what you do, or how you decide to do it, the main thing is to write, and to enjoy it.

Also, a 15 minute Skype consultation that will help you uncover your "Impostors" to help you live a more fulfilled life.

Carrie Pierce

Skin Care and Makeup Tips for Menopausal Skin—everything you need to know to look your radiant best as you move through Peri menopause and Menopause

Contains approximately $450.00 worth of professional beauty advice

This eBook contains 21 pages packed full of solid, professional information about the proper care of your skin- as well as beauty tips that will serve you well as you move through the challenging and exciting time of Menopause. Quit wasting time, effort and money- and start looking your radiant best TODAY!

Rachel Sylvester

FREE 100% Pure & Natural Body Care For YOU from Blue Moon Elise

Why do we want to gift you Free Body Care? Because Body Care happens to be one of the most toxic industries in the world ......and we think that's CRAZZZY!! It doesn't need to be dangerous to OUR planet and certainly not to US.

For 13 years I have been making and providing 100% Synthetic-Free Body Care with the the passion of giving you herbal products that actually help you revive your body, eliminating dry, itchy and just plain 'ol annoyed skin while using, in my opinion, one of life's sweetest offerings- Essential Oils straight from our plants.

Michelle Howe Clark

Face Forward Audio Book MP3

$37.99 Value

Face Forward describes Michele Howe Clarke's transformational journey fighting disfiguring head and neck cancer and how she emerges alive, vibrant and victorious. Through her experience, she reveals crucial insights on how you can triumph over any challenge and Face Forward. No matter your facing ...face it with this book!

Angela Johnson

Soul Vision Journal ebook - Write yourself into your destiny and manifest anything you want

$29 Value

The Soul Vision Journal actives your manifesting capability by taking you through the keys to get what you want in your life.

Suzanne Evans

Mindset for Money mp3

$97 Value

Tired of playing at your business? And ready to reap big-time profits? Its not as hard as you're making it! In fact, just minutes from now you could discover powerful mindset secrets that can unleash and endless cascade of profits!

Its a stunning recording titled: Mindset for Money. In just minutes it can help you create the powerful mindset that attracts massive profits. You will unearth the keys that unlock the most effective money-making mental approach. And be stunned at how simple (and natural) it is.

Its only seconds away. In this amazing "Mindset for Money" recording!

Lisa Manyon

Copywriting Action Plan Ezine

Lisa Manyon's Copywriting Action Plan helps you get really clear on the messaging you need to create to truly connect with your ideal clients and you'll discover 7 power-packed tricks of the copywriting trade to dramatically increase results of your marketing materials

HOW TO PUT THE FUN BACK INTO DATING

Fiona Fine's Online 2 week mini course: "CATCH HIS EYE: How to Go from Flirting to Dating"

$127 value

A how to program for us women to go from salivating over the 'hot guy' you just spied in the coffee line-up to setting up the first date (no matter the location or situation).

On your live teleconference call, you will get step by step instruction, tips and techniques to guide you through the process of finding out if he is a keeper and worthy of your number. In addition, you will get a follow-up Q+A teleconference to solidify all of your learning and flirt-actions.

Laurie B. Style

The Twelve Steps of Style eBook

$25 Value

Discover how style can change your life. Certified image consultant and personal stylist takes you on a journey of style with the Twelve Steps of Style. Learn the key ingredients to creating a look for yourself that is exciting, flattering, and perfectly you. Remember YOU ARE STYLE! So leave your bad fashion habits behind and see style and most importantly see yourself in a whole new light. Let the style rehab begin.

Dave Albano

"How to Get 100 Customers in 100 Days" Online Webinar

Value $47

Results Coach Dave Albano will show you how to Get 100 Customers in 100 Days. Dave started achieving all he desired when he wrote his first goal list at the age of 14. Since then, he's never looked back. He's become a MASTER of getting everything he wants out of Life and more, and he can teach you how to do the same. Dave really knows what it means to Live Life to its Fullest Potential and loves coaching others to achieve their own Dreams and Goals!
Choose to live a TURNED ON life! One that excites you EVERY day…in AND outside of the bedroom.
Find Your ME Spot is more than a book. It's your all access pass to a life that fuels you with passion and purpose. When you're coming from this place, everyone around you benefits because YOU become a steward for the YES in life. Containing over 52 easy, life-changing lessons, Deborah's book will guide you through the process of transforming yourself into the woman you want to be (and deep down, know you are).
Find Your ME Spot will help you engage your life in a way that you will recognize the TRUE you. The one that has incredible, unique gifts to share. The one that is so super special, she can't help but shine making the world a better place for all.
Inside Find Your ME Spot you will learn to:
Create Sexy Solo Time (and no, it's not as naughty as it sounds...although it can be if you want!).
Use your own backyard and neighborhood to recover a sense of adventure.
Heighten your understanding of who you are and what you really want...and how to take yourself there.
Play with the qualities you already possess to uncover your ideal self.
Appreciate fabulous, beautiful YOU, and all the sensual goodness inside.
Each section is based on one of your senses (sight, sound, smell, taste, and touch) and offers you a variety of ways to use that sense to spice up your life and bring more joy and pleasure into your world. So fix yourself a cuppa something nice, get comfy in your favorite spot, light up some candles (part of the MOJO-enhancing of tip #45!), and get ready to Find Your ME Spot!
All Women Can Benefit from Reading this Book!
Become a Find Your ME Spot AMBASSADOR!
Is your sister, mother, cousin, aunt, BFF, gal pal, colleague or any other woman you know challenged by being their best self?
YOU can help them and be part of the solution.
Order Multiple Copies and Receive Additional Bonus Items
Share Find Your ME Spot with the women you know that deserve to be rockin' their mojo, feeling amazing in their skin and living a confident, empowered life (great idea for book clubs!)
Deborah has included some SERIOUSLY JUICY ADDITIONAL FREE BONUSES when you purchase multiple copies. IN ADDITION to the bonuses listed above, you'll receive:
Buy FIVE (5) Books:
Immediately receive the entire Sensually Empowered Woman Summit interviews on mp3 (12 hours of audio with Deborah interviewing leading experts) $79 value
Buy TEN (10) Books:
Immediately receive the entire Sensually Empowered Woman Summit interviews on mp3 (12 hours of audio) AND the Sensually Empowered Woman Interview Series (10 hours of audio) on mp3 AND 10% off Atma Jewels (Deborah's empowerment product for your home) - $175+ value
Buy TWENTY (20) Books:
Receive a one-on-one ONE HOUR Mojo Makeover session with Deborah $300 value
Buy THIRTY (30) Books:
Receive ALL of the above! The Sensually Empowered Woman Summit interviews on mp3 (12 hours of audio) AND the Sensually Empowered Woman Interview Series (10 hours of audio) on mp3, 10% off Atma Jewels AND a one-on-one ONE HOUR Mojo Makeover session with Deborah $475 value
Buy FIFTY (50) Books:Deborah hosts a LIVE teleseminar or webinar for your community $600 value
Buy ONE HUNDRED (100) Books:
Deborah comes to you and speaks at your LIVE event IN PERSON $1000+ value
Note: For those who order multiple copies, you MUST fill out the form below AND forward your Amazon Order Confirmation Email to support@deborah-kagan.com. You will receive an email containing instructions on how to access or book your bonuses.
Find Your ME Spot is launching in bookstores and online at Amazon. We need your help to spread the word. Will you support millions of women in stepping into their most empowered self? Will YOU be one of them? It's easy.
STEP 1: BUY THE BOOK
Grab your copy (or copies) of Find Your ME Spot at Amazon.com Once you have completed Step 1, you'll receive an email from Amazon with your order#.
Buy now from Amazon.com
STEP 2: Your FREE BONUSES, Come and Get 'Em!
Enter your information including the Amazon order# below. Then click the "I'm Finding my ME Spot button" to submit. You will be redirected to the gift download page where you can instantly access all your bonuses.
We believe it's good mojo to never share or sell your info... no matter how juicy the offer is. Your secrets are safe with us.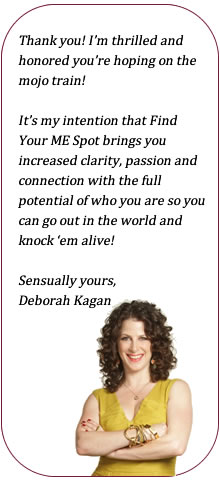 Here's what readers are saying...

"Thankfully I found this book by Deborah Kagan and it was the perfect time for me... I was looking for a way to connect with my 'inner she' power and this book has so many ideas to do that! It's a fun read and it's now by my bed to remind me that I am a beautiful powerful sexy soul!"
~ Kristi Frank, star of Season #1 of NBC's The Apprentice, business, health and beauty guru
"Deborah Kagan teaches, lives, models, and IS sensual. Wanna live your life on mojo overload? Read this and then live this."
~ Suzanne Evans, owner & founder Suzanne Evans coaching, LLC

"I can't think of a better guide than Deborah Kagan. By using this book as your roadmap, she assists you in breaking free from the dead past to instead enjoy the glorious present moment."
~ Steve Ross, Author of Happy Yoga

"If you could cross Mama Gena (Mama Gena's School of Womanly Arts ) with Geneen Roth (When You Eat at the Refrigerator, Pull Up a Chair) you would get Deborah Kagan – a real world, straight talking, straight arrow heading right to the hearts of today's women, guiding us to fall in love with ourselves on every level."
~ Lauren Solomon, Professional Image Expert
"Deborah Kagan has a deep understanding of how our immediate experiences shape our feelings and vision about ourselves . By taking a true look around us - a sensory inventory, if you will - we all have a chance to be more, see more, have more, and ultimately, love more. Any woman, whether entrepreneurial, or corporate, married or single, mother, sister or friend, will see herself differently after reading ME Spot. It all starts from page one."
~ Amy Swift Crosby, founder, SMARTY A Community for Networking Rebels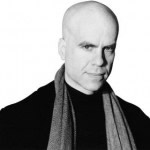 "No one anyone is more qualified than Deborah Kagan to rev up your joy and turn the volume of your life up to 11. Try the easy and insanely enjoyable exercises in Find Your Me Spot. I absolutely positively guarantee....you won't be the same afterwards!"
~ David Daniel Kennedy, Author of Feng Shui for Dummies and The Feng Shui Home Study Course
"Find Your Me Spot is a wonderful book to help you live a great life! Deborah Kagan provides so many tips and strategies to help women get connected to their power and create more balance, fun and pleasure in their lives. Thank you, Deborah!"
~ Dr. Eve Agee, author of The Uterine Health Companion
Buy your copy today and support women in building healthy relationships, families and communities free from sexual, domestic and interpersonal violence.
Thank you for helping us put women in the driver's seat of their lives.
Because we believe Sensually Empowered Women deserve to be rewarded for taking action, we are thrilled to offer you the following juicy FREE GIFTS (worth HUNDREDS of DOLLARS) from these leading experts & companies—when you order your copy of Find Your ME Spot by March 31st.
Order Find Your ME Spot and start living a mojolicous life TODAY!
©2012 Deborah Kagan | www.deborah-kagan.com | Email: support@deborah-kagan.com